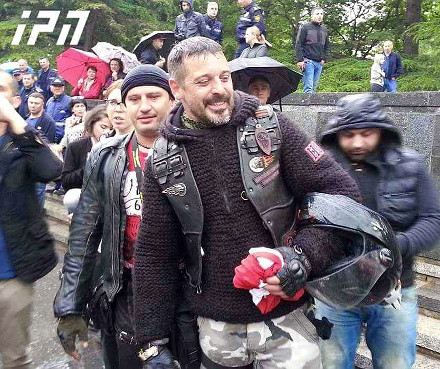 TBILISI, DFWatch–Two members of the notorious Russian motorcycle gang Night Wolves turned up in Tbilisi's Vake Park on Tuesday for the May 9 commemoration of victory over Nazism in World War II, despite the gang's members being banned from entering Georgia.
The bikers are known for their support of Russian policies, including the annexation of Crimea and the war in Eastern Ukraine.
Two of its members were spotted laying down a wreath on the grave of the Unknown Soldier in the city's largest park.
They were instantly surrounded by about dozen of Georgian journalists.
The bikers said they hadn't violated any Georgian laws and entered the country legally. (Article continues below the video.)
Over 100 members of the MC club were turned away at the border earlier by Georgian officials, the Ministry of Internal Affairs told Interpressnews.
In April, news spread across the Georgian media that the motorcycle gang was planning to visit memorial sites in the country and talk to war veterans in connection with the 72nd anniversary of the end of World War II on the eastern front.
The gang, which may have as many as five thousand members, is known for its links to the Kremlin. The leader of Night Wolves, Alexander Zaldostanov ("the Surgeon"), has appeared at many public events next to Russian President Vladimir Putin.
Their trips abroad often end in confrontations, but there are so far no signs of that this time.