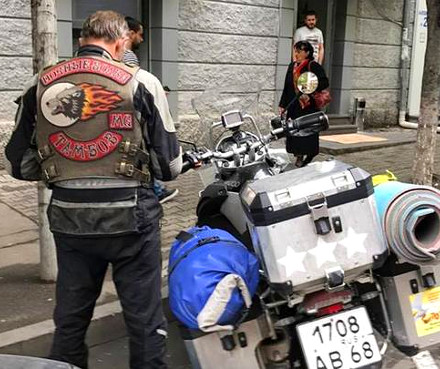 TBILISI, DFWatch–Nearly 50 Russian pro-Kremlin bikers were stopped at the border on Wednesday as they were trying to enter Georgia in connection with an annual tour to commemorate the end of World War II.
The bikers were not given an explanation for why they were denied entry, according to Russian media reports.
The Georgian Ministry of Internal Affairs insisted that when the Russian motorcyclists were stopped at Larsi border crossing, it was done in accordance with legislation, but the ministry spokesperson did not offer further details.
Night Wolves said they were told the entry ban would last until the end of the WW2 memorial events.
The motorcycle gang was planning to visit memorial sites in Georgia and talk to war veterans in connection with the 72nd anniversary of the end of World War II on the eastern front.
The gang which may have as many as five thousand members is known for its links to the Kremlin. The leader of Night Wolves, Alexander Zaldostanov ("the Surgeon"), has appeared at many public events next to Russian President Vladimir Putin.
The "Surgeon" earlier told Georgian Public Broadcaster that Night Wolves barely was able to find time to visit Georgia.
Some of the Russian bikers said that after turning back from the Georgian border they would travel to Berlin to commemorate the Red Army's victory over Nazism on May 9, 1945.
However, journalists working for the Georgian news agency On.ge spotted a member of Night Wolves in Tbilisi.
The MIA claims this was a biker who entered Georgia prior to the entry ban on the group.
Some of the over 5,000 members regularly go abroad in connection with May 9. Their trips often end in confrontations.