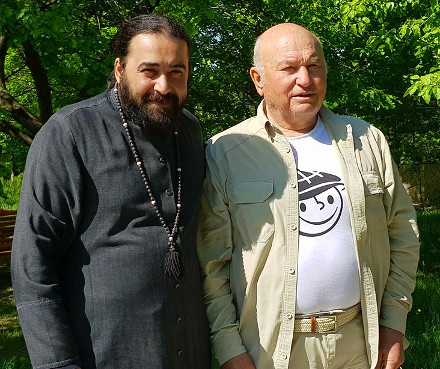 TBILISI, DFWatch–An otherwise uneventful tourist visit to Georgia by the former mayor of Moscow was interrupted by opposition calls for him to be 'punished'.
Word spread of Yuri Luzhkov's visit to Georgia after priest Serafim Bit-Kharibi posted photos of the former Moscow mayor on his Facebook page.
Luzhkov is known as a staunch supporter of the independence of Georgia's breakaway republics and has visited Abkhazia and South Ossetia on several occasions.
Two opposition parties claimed he was thereby violating a law passed after the 2008 August War which prohibits entry to the regions without passing through certain checkpoints, and called for him to be punished, Imedi TV reported.
In the photos, the ex-mayor is accompanied by his wife, billionaire businesswoman Elena Baturina, as well as friends and relatives. He arrived in Tbilisi on Sunday and told journalists that he would be departing Monday evening on his own private plane.
The largest opposition party National Movement called for the Luzhkov to be punished, while another opposition party, European Georgia, also called on the authorities to take action. A petition calling for Georgian authorities to immediately react to the ex-mayor's alleged violation had gathered over 700 signatures Monday night.
Responding to the political furor his trip caused, he told Imedi TV that he didn't know he had violated any law, but if so, he was sorry. While he was mayor he had had no opportunities to enjoy Georgia, he added, and the purpose of this trip was purely tourism.
The trip took him to go to Kanda, a village 40km west of Tbilisi inhabited by mostly ethnic Assyrians, and the Temple of The Thirteen Assyrian Fathers, where the travelers listened to Father Serafim's chant in Aramaic (also performed for Pope Francis last October). The group also visit other of Georgia's landmarks.
Violators of the Law on the Occupied Territories may be held to account next time they enter Georgia. This is a relatively rare occurrence, though. In most cases, authorities look the other way.
Violations of the law on the occupied territories, which prohibits visits to Abkhazia and South Ossetia without formal consent from Tbilisi, has only been partly enforced during its nine years of existence: 51 persons have been jailed for violating the law; a criminal offense.
"I think Georgian authorities should be more responsible in defending the country's interests and protecting its sovereignty. Luzhkov was in the vanguard among those who stood up for the recognition of Abkhazia and Tskhinvali region, who visited the territories many times, thus violating our laws," said Sergi Kapanadze, a member of parliament for European Georgia.
But border officials had no formal cause to either stop or prosecute Yuri Luzhkov, a government spokesperson countered.
"[Luzhkov] arrived with a valid document, which didn't contain any information about violating the law on the occupied territories," Deputy Minister of Internal Affairs Shalva Khutsishvili said.
During his tenure as Moscow mayor, Yuri Luzhkov was associated with a rapid growth and several large-scale construction projects. He was also famous for his hard line conservative views.