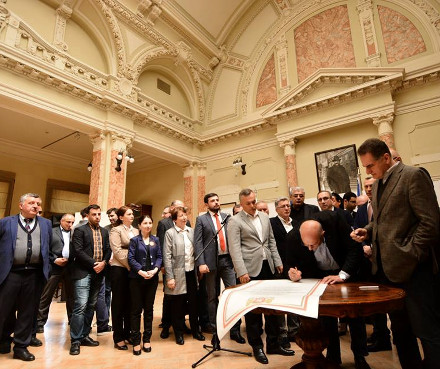 TBILISI, DFWatch–Georgian opposition groups said Monday that the country's democratic development is being reversed unless a set of constitutional amendments is stopped. The groups demand a referendum about the changes.
In a declaration, the opposition listed eight of the changes proposed by the constitutional commission which they say will reverse the democratic progress.
• Changing the rule of direct and universal election of the president;
• Abolishing the right to form electoral blocs;
• Leaving the 5% electoral threshold unchanged;
• Introducing a principle of distribution of MP mandates that implies that if a party doesn't pass electoral threshold, its mandates are awarded to the party, which took the first place; currently, those mandates are distributed between all parties, which pass the threshold proportionally;
• Disbanding the National Security Council;
• Abolishing the powers of the president as the commander-in-chief;
• Changing the rules for selecting a chairperson of the Supreme Court;
• Moving parliament away from Kutaisi.
The opposition parties, including United National Movement and European Georgia, as well as several non-governmental organizations established an umbrella group "Protect the Constitution". The declaration was prepared and signed in an event organized by this group.
Meanwhile, the commission submitted the new constitutional draft to the parliament on Monday. It requires passing several mainly formal procedures and will likely be voted over in the fall. Georgian Dream controls enough votes in the parliament to amend the constitution.