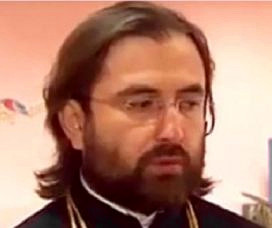 TBILISI, DFWatch–A Georgian priest accused of planning to poison an adviser to the patriarch is to remain in pre-trial detention. That was decided at a hearing in the Tbilisi City Court on Friday.
The judge rejected all the around a dozen pleas by arch priest Giorgi Mamaladze's lawyers and stated that there were no legal ground to stop his prosecution.
The defendant maintained his innocence and defense lawyers demand that all criminal charges are dropped and that their client is released immediately.
The court earlier decided to hold the 11 hours long hearing behind closed doors.
Next hearing will be on May 19; in about two weeks' time.
Mamaladze is suspected of premeditated homicide attempt motivated by greed, a crime which carries a sentence of 16 to 20 years in jail.
He was detained at Tbilisi airport with sodium cyanide in his luggage as he was about to leave for Berlin to visit Patriarch Ilia II, who was undergoing laparoscopy. The amount of poison was enough to kill several persons, according to a statement by the Prosecutor General's Office.
The alleged target of the plot was Shorena Tetruashvili, Patriarch Ilia II's personal secretary, who has a strong informal influence among the clergy.
The prosecution's theory is that after Mamaladze was dismissed as head of the Church's property department in January, 2016 and appointed director of St Ioakime and St Ana Medical Center, he believed that Tetruashvili was behind his dismissal and considered his transfer a demotion.