TBILISI, DFWatch–Prime Minister Giorgi Kvirikashvili promises that the motorway through Georgia currently under construction will be completed by 2020.
The transit road east-west through Georgia, connecting the border with Azerbaijan with the Turkish border, is a vital transport link in the South Caucasus.
In an interview with Radio Liberty, Kvirikashvili said the goal of the government is to accelerate infrastructure projects.
But a number of mistakes have been detected during talks with the Ministry of Infrastructure and large companies.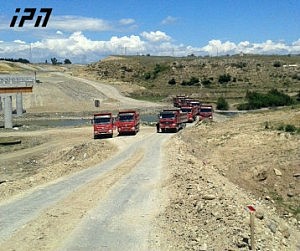 "I can assure you that we will be able to accelerate those projects at least by 35-40 percent," he said, and added that the main aim is to finish the motorway, a project of international importance, by 2020.
The PM assured that the section of road to Sadakhlo, the border crossing with Armenia, will also be completed, as will the part that leads to Tsiteli Khidi, the border crossing with Azerbaijan. Also the road through Kakheti which leads to the border with Azerbaijan will be completed.
Among the important infrastructure projects which needs to be accelerated, the PM named the section from Mtskheta to Larsi, at the border with Russia, and the road from Kutaisi to Mestia, in the northern Svaneti region of Georgia.
"This won't be increased expenditure for bureaucracy or for social expenses," he said, he said, assuring that it won't be done at the expense of social programs, adding that the government is in negotiations with the International Monetary Fund about increased expenditure for infrastructure projects.