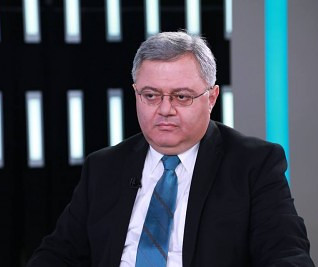 Tbilisi, DFWatch – Speaker of Georgian Parliament states he was offered a prime ministerial seat by the former PM Bidzina Ivanishvili  back in April, 2015, when the post was held by Irakli Garibashvili.
It was Ivanishvili's personal proposal, Davit Usupashvili, the Speaker, said during an interview with Public Broadcaster's talk-show "Interview" Tuesday night.
"I responded (to the proposal) saying that it never happens when a successful manager from one company moves as the manager of another company," Usupashvili, a leader of Republican Party, which was that time in the alliance with Ivanishvili's Georgian Dream, said.
Usupashvili said he proposed a precondition – he would agree of becoming a PM if Ivanishvili somehow returns to the public politics, even at the modest position of the member of Georgian Dream political council. Ivanishvili refused.
Bidzina Ivanishvili stepped down from prime ministerial post in November, 2013, after holding it during a year, and appointed Irakli Garibashvili as his successor.
The letter unexpectedly resigned in December, 2015, paving the way to the current PM, Giorgi Kvirikashvili.