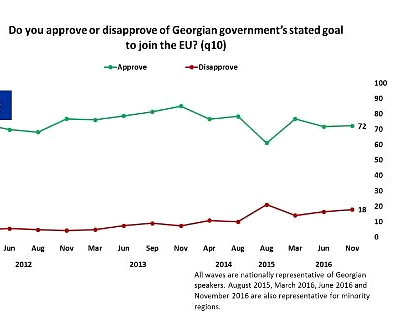 TBILISI, DFWatch–Support among Georgians for joining NATO and the European Union has fallen slightly but remains high, according to a new opinion poll published on Monday by the National Democratic Institute (NDI).
The survey was carried out in November and December and covers a broad range of issues, including foreign policy and personal economy.
It found that only 32 percent of respondents believe the country is going in the right direction. NDI noted that although the recent numbers are slightly improved over their last poll in June (25 percent), the overall trend of steady decline since 2012 has continued.
The survey shows that 72 percent of the respondents wants Georgia to become a member of the European Union (EU), the same number as in June, down from 77 percent in March result.
The level of support for seeking NATO membership has slightly declined. 61 percent said they approve of the government's stated goal of joining NATO, which is a seven percent reduction compared to June 2016. One fourth of those questioned are against joining NATO.
The study also showed that there were differences in opinions between ethnic Georgians and ethnic minorities, and between rural and urban segments of the population.
While the majority of the country's population support Euro-Atlantic integration (72 percent) and NATO membership (61 percent), Georgia's ethnic minorities and rural population largely reject the nation's stated foreign policy platforms and, instead, called for close and more comprehensive ties with Russia over the West. Respondents from the ethnic minorities supporting Georgia's EU membership have declined by 3 percent since June and now make up 47 percent, while support for NATO membership declines by 9 percent, from 47 percent in June to 39 percent in November.
The NDI poll showed that more than half (53 percent) believe Georgia will benefit more from European and Euro-Atlantic integration, while 31 percent think that nation will benefit more if the country rejects Euro-Atlantic integration in exchange for better relations with Russia.
The survey carried out by Caucasus Resource Research Centers (CRRC) for NDI was conducted through nationwide face-to-face interviews with 3,141 respondents between November 4 and December 4. Breakaway Abkhazia and South Ossetia are not including in the survey.