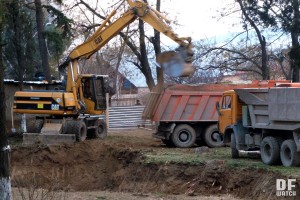 TBILISI, DFWatch – The small fireplace, wooden chairs, all the logs and even the small plant planted one day ago were demolished on Saturday by huge trucks and a tractor that dug a big hole inside the fenced-off area of old Kikvidze Park in northern Tbilisi.
It happened in spite of protests, night shifts, rallies and performances, and all the effort by activists to save the trees from being cut down and prevent the illegal building of a new police station. Today, all objections were ignored as trucks and tractors started working, while police arrested six people for trying to interrupt the work or for standing at the entrance to the park.
A video was released on social networks displaying how the police arrested them without explaining the reason for the arrest (watch it here). Four police officers are holding one activist by his hands and feet carrying him to the car. Another arrest follows, and at the end we see smiling a activist not even resisting, accompanied by the police to the car.
The red car he is forced into, has been standing at one of the entrances these last days, according to activists, and now it turns out to be a police car which has been posted there as a lookout. (Article continues below map.)

View Larger Map
A few days ago people discovered that 14 trees had been cut in the old Kikvidze Park late at night when nobody was watching.
The government is going to build one of Georgia's characteristic transparent glass police buildings, which are to be seen in almost every part of Tbilisi.
"Another police building? Well, ok, but why cut trees, while the park is enormous? There are abandoned buildings and opportunity to build it there, without harming the environment," activists say.
It also became known that there is nothing in the purchase agreement about cutting trees, only fencing off a certain area and locating a small booth there.
The trees in the park are more than 70 years old, and of rare species, including Himalayan cedar.
Two days ago four more trees were cut. There are 50 more trees in the area, and they are still in danger of being cut.
DF Watch reported how the activists planted new tree as a symbol of protest and new life in the park. When we returned yesterday, all of it was leveled; there were nobody but workers in the park. The entrance is now fenced off, and just a small door is left for workers to enter through.
Among the arrested there were Lasha Chkhartishvili, the founder of Greenpeace Supporters Group, and four members of the youth wing of Bidzina Ivanisvhili's movement Georgian Dream.
All of them were released yesterday against a 400 lari fine. The Interior Ministry released a statement about the arrests, saying that these six people were arrested for preventing the construction works in the park, and for disobeying a police order.