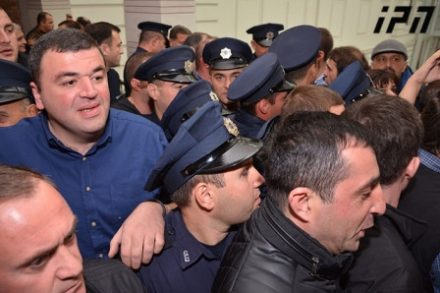 TBILISI, DFWatch–Two candidates for Tbilisi mayor were among opposition politicians and activists who were forcibly dragged out of the city council on Friday before a proposal was approved that will hand over two land plots to a company owned by former PM Bidzina Ivanishvili.
Members of two leading opposition parties, Members of United National Movement (UNM) and European Georgia (EG), were literally dragged away by Sakrebulo guards and police, as were at least two activists from Guerilla Gardening, a group for preserving the aesthetic face of the capital.
The opposition claim that some men not wearing uniform were helping to thrown them out of the session hall by force.
Later in the evening, both resolutions were passed, which will allow Ivanishvili's company to buy two land plots 1,900 and 4,700 square meters in size for a mere symbolic price of one Georgian lari and use the properties to build a large car park and a recreational complex, respectively.
The car park will be constructed on a property near Freedom Square, while the multifunctional recreational center will be located on mount Tabori, overseeing downtown Tbilisi and adjacent to the botanical garden.
The opposition and part of civil activists fear the proposal involves foul play by Ivanishvili, who they think has a powerful influence on decisions made by the ruling Georgian Dream party and the government.
UNM's mayoral candidate Zaal Udumashvili and Elene Khoshtaria, EG's candidate for mayor, were among those who were forcibly removed from the Sakrebulo. They are not council members, but were attending the session. Alexandre Elisahsvili, an independent mayoral candidate and Sakrebulo member, left the session in protest, as did other opposition council members.
One UNM activist, Tamaz Mamedov, was detained for 'hooliganism' and 'hampering the activities of the police'.
Other Ivanishvili-linked development projects have also been resisted because of the impact on the city's urban fabric and allegations of back room deals.