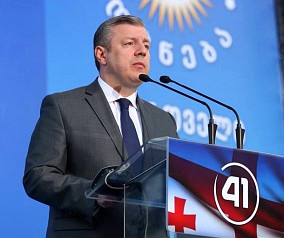 Tbilisi, DFWatch – Amid growing concern over imminent constitutional majority in the hands of Georgian Dream, Prime Minister airs his initiative to set up a group, which will work on amending constitution.
"We inherited a very unbalanced constitution and it is necessary to create a group, which will introduce amendments," Giorgi Kvirikashvili, PM, stated at the Cabinet meeting Tuesday morning, adding that the group would be created with "broad involvement of the each member of society".
He also added that the purpose of those amendments was that "in the future no one will be able to concentrate power and usurp it, and once and for all this to be a truly democratic constitution."
Kvirikashvili also commented on the active public discourse about the second round of the parliamentary election, where GD may win enough mandates to form constitutional majority, dubbing it as 'an Unhealthy speculation'.
On Monday individual members of Tbilisi-based NGOs and representatives of culture issued an open letter to opposition calling them to advice their voters to support opposition candidates in the second round.