TBILISI, DFWatch–Russian border police detained a 31-years-old inhabitant of Tbilisi in the vicinity of the South Ossetian boundary line, Sputnik Ossetia reported.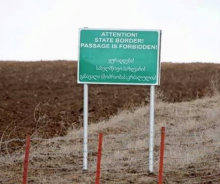 The man was detained on 24 February near the village of Akhmaji (Akhmadz in Ossetian) in Akhalgori (Leningor) municipality, which remains under the South Ossetian control.
The State Security Committee (KGB) of South Ossetia issued the following statement:
'On 24 February, a citizen of Georgia, born in 1985, was detained by the border guards for violation of the state border regime in the vicinity of the village of Akhmadz of Lelingor municipality near the state border between the Republic of South Ossetia and Georgia. The man is a resident of Tbilisi. Currently, the Border Service of the KGB of the Republic of South Ossetia is conducting proceedings and a request for transferring materials to the court is being reviewed.'
According to Sputnik Ossetia, this is already the sixth case of detention this year.