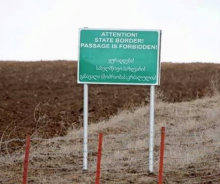 TBILISI, DFWatch–43-year-old Erosi Takadze was detained by Russian border police at South Ossetian administrative boundary line (ABL) on Saturday, 9 April.
According to Mr Takadze's relatives in the village of Kirbali, which is located in Gori region right next to the ABL, he was herding cattle in the Georgia-controlled territory at the time of the detention.
Gori's gamgebeli ('head of local administration') Davit Oniashvili visited Mr Takadze's family and promised the authorities would do everything in their power in order to bring him back, InterPressNews  reported.
Mr Takadze was accused by South Ossetian authorities of 'illegally crossing the border'. Rustavi 2 reported that on Sunday, 10 April he contacted his mother and asked her to keep calm.
While South Ossetian authorities installed fences on some sections of the ABL, the boundary line remains for the most part arbitrary.