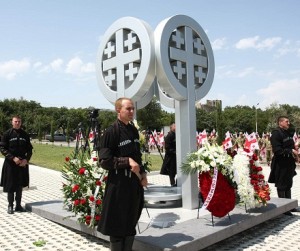 TBILISI, DFWatch–The foreign ministers of Poland, Lithuania and Latvia, and the deputy prime minister of Ukraine are among the foreign officials who will visit Georgia on Monday and Tuesday for the 10th anniversary of the Russo-Georgian war.
During their visit, executive Jacek Czaputowicz of Poland, Linas Antanas Linkevičius of Lithuania and Edgars Rinkēvičs of Latvia will participate in a roundtable meeting dedicated to the August War, which took hundreds of lives from both sides and resulted in Russia recognizing the independence of Georgia's two breakaway territories Abkhazia and South Ossetia, an act regarded by Georgia as a form of occupation.
The guests will also visit the conflict line and meet with Georgian president, PM and speaker of parliament.
On August 5, a video by Linas Linkevičius went viral in Georgia's social media.
"10y since Russia's aggression against #Georgia. #Russia continues to violate Georgia's sovereignty, occupies 20% of its territory. Tomorrow together w colleagues J. #Czaputowicz, @edgarsrinkevics & Ukraine's DPM @RozenkoPavlo leaving to #Tbilisi to express solidarity w Georgians," Linkevičius tweeted.
10y since Russia's aggression against #Georgia. #Russia continues to violate Georgia's sovereignty, occupies 20% of its territory. Tomorrow together w colleagues J. #Czaputowicz, @edgarsrinkevics & Ukraine's DPM @RozenkoPavlo leaving to #Tbilisi to express solidarity w Georgians. pic.twitter.com/GVLRyhGbRk

— Linas Linkevicius (@LinkeviciusL) August 5, 2018