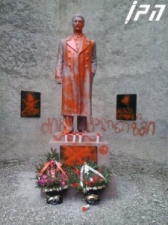 TBILISI, DFWatch–A new Stalin monument in the east of Georgia was paint bombed the same day as the opening ceremony.
As Stalin monuments are resurrected around Georgia's towns and villages, protesters paint them with slogans against the dictator and share photos of it through social media. The latest action took place in Telavi on Sunday evening, after local groups had just presented a new Stalin statue.
The protesters, who are linked to the Georgian liberal magazine Tabula, uploaded a video of the action to Youtube.
Protesters wrote different slogans around the statue like 'Stalin the Murderer, 'cannibal' and 'no Stalinism'.
The statue was made with donated money and it was organized by elderly people in the Telavi area, who recited poems about Stalin at the opening ceremony.
"Having a monument of Stalin in our town has great importance," one of the veterans told journalists, "because he was one of the most fair leaders who managed to defeat world evil – capitalism in those times and create a worker's state."
"This leader killed 27 million people by the way," wrote a user called Dato on a social website. "Imagine Germany or Austria erecting monuments of Hitler."
During Saakashvili's regime, many physical imprints of the Soviet era, like monuments and buildings, were modified or eradicated, as the National Movement sought to erase visual traces of that time period. After Georgian Dream came to power in October 2012, several Stalin monuments have been restored as some groups are taken by a nostalgia for the past.
All the resurrected Stalin statues have been paint bombed by protesters.
A Facebook community has been created called "50 monuments of Stalin which you need to paint while you are alive". The page posts photos of painted monuments and graffiti of Stalin.