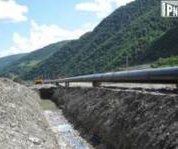 TBILISI, DFWatch–Monday, the newspaper Kviris Palitra published an interview with the person who tipped off the State Security Service about a plot to blow up a pipeline which brings natural gas from Russia to Armenia.
Seven persons were arrested on August 22,five of whom are accused of participating in the plot, and two of having had knowledge of it.
The SSS claims that the plan was to blow up the pipeline in Saguramo, along the river Aragvi. The informant claims he was asked to participate in the plot.
He says that he met one of the suspects, Vladimer Rukhadze, online. He knew that Rukhadze had assisted Georgians with going to Ukraine to participate in the war there. Through him, he also met Beka Bekauri, another of the suspects and the only one who has admitted guilt. Bekauri told him the details of the sabotage plan.
"I asked him whether it would happen on the territory of Georgia or the occupied territory. He underlined that he planned carrying out the sabotage on the territory of Georgia, away from populated areas," the informant told the newspaper.
He says he was offered to participate in the plan and Bekauri assured him that he had enough equipment for the explosion.
Still, he was suspicious that the plan might not be real, but he was convinced when he saw the weapons cache as well as several 'partners', including the acting police officer who is also charged in the case.
The informant claims he asked Bekauri on whose order he was acting.
"He gave a vague answer, but he specified that he expected USD 50,000 from abroad and likely from Turkey."
The Appeals Court on Tuesday upheld a decision by Tbilisi City Court to place the seven suspects in pre-trial detention. Defense lawyers asked to have them released on bail.
Rukhadze is continuing a hunger strike to protest the court's decision to place them in pre-trial detention. His lawyer said he is receiving liquids and is in a stable condition. He is alone in the cell.