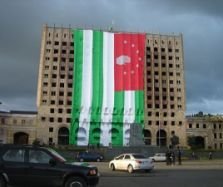 TBILISI, DFWatch–Two politicians from Abkhazia have been banned from entering Moldova for ten years after they celebrated the 25 year anniversary of the breakaway region Transnistria.
On the way back from the celebration, Sukhumi's vice president Vitaly Gabniya and foreign minister Kazbulat Tskhovrebov were told the ban was brought because they had violated Moldova's territorial integrity and sovereignty.
Sukhumi said Moldova's behavior was similar to Georgia's policy of isolation toward Abkhazia.
"Moldova's provocative moves are in direct violation of the right to free movement. We must remind the government of Moldova that quite a lot of its citizens visit Abkhazia every year," a statement put out by Sukhumi said.
Abkhazia and Transnistria are Russian-oriented breakaway regions inside Western-oriented former Soviet republics; Georgia and Moldova respectively. They have recognized each other but face an uphill battle achieving broad international recognition.
Cisinau is currently rocked by hundred thousand strong demonstrations demanding the president's resignation and a new election.