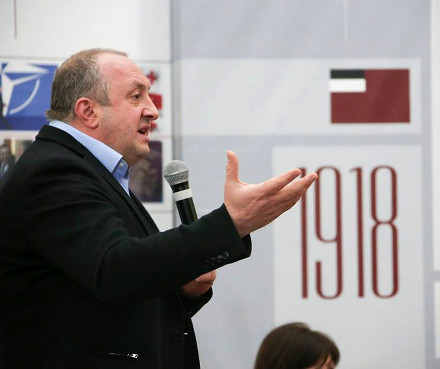 TBILISI, DFWatch–The president of Georgia has hinted that Russia may have manipulated media in Europe and made them focus on crime committed by Georgian nationals.
"It may be the result of Russian propaganda when in the capitals of some European countries [local] media particularly emphasize crimes committed by Georgians," President Giorgi Margvelashvili said Tuesday at a meeting with students and staff of Telavi University.
"Always remember that the success of Georgia as the leader of the Eastern Partnership is looked on with irritation by Russian politicians. If they manage – one way or another – to meddle in the election campaign of the [world's] most prominent country, I will not be surprised if they manage to fabricate a few "criminal cases" in order to ingrain into public opinion that Georgians really create particular difficulties in Europe. I see that the Georgian state is maximally mobilized and open for dialogue with European capitals in this regard," Margvelashvili said.
The statement was preceded by a flurry of news about numerous petty crimes committed by Georgians in Western Europe, mainly in Germany. They also raised the issue of many Georgians violating visa free travel regulations.