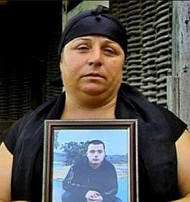 TBILISI, DFWatch–A man was arrested in western Georgia on Saturday for harassing a witness in the Demur Sturua case.
Sturua committed suicide on August 7 and left a note indicating that a local policeman had pressured him to give up names of people who were cultivating marijuana in Samtredia, a town in western Georgia.
One of the witnesses in the case is Sturua's mother, Nona Jojua. The Prosecutor General's Office said in a statement that a man, Davit Natsvlishvili, had been arrested for harassing Jojua early in the morning on September 3.
At 3am, he came to her house, drunk, and attempted to force her and her second son Davit Sturua to change their testimony by using violence, according to the statement.
Earlier on Saturday, Jojua told journalists she was beaten at night and that she thought it was done by order from local policemen. She said she had injuries in head and ear regions and bruises over her body. She went to Kutaisi for a forensic examination.
"This man was questioned as a witness and was furious about it. 'How come you mentioned me?' he said," Jojua explained, adding that she has known the attacker for ten years.
Jojua managed to call the police at night and Natsvlishvili was arrested.
Natsvlishvili now risks five to eight years in jail.