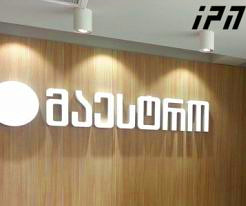 TBILISI, DFWatch–One of Georgia's largest TV channels confirmed on Tuesday that it has successfully concluded negotiations to merge with two other channels that are linked to former PM Bidzina Ivanishvili.
Maestro TV was a voice of independent journalism through the latter years of the Saakashvili presidency, but will merge with Imedi and GDS, which many see as supportive of Georgian Dream, the current ruling party. GDS is owned by Ivanishvili's son Bera.
Ina Gudavadze, owner of Imedi Holding and widow of Imedi TV's former owner deceased billionaire Badri Patarkatsishvili, announced the merger in a statement.
"Negotiations to purchase a controlling stake in the TV Maestro 2017 have concluded successfully and in January Maestro will become an integral part of the Imedi Media Holding. Also concluding similar negotiations with GDS," Gudavadze said.
Maestro went through an ownership dispute earlier in 2016.