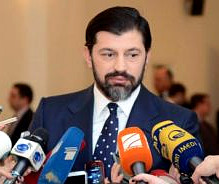 Tbilisi, DFWatch – Deputy prime minister and minister of energy Kakha Kaladze apologised for sexist remarks he made while commenting on President Giorgi Margvelashvili's statement about 'undue connections between political groups and law enforcement' in the context of the dispute over the Constitutional Court.
The president and the head of the Constitutional Court, Giorgi Papuashvili discussed the fact that in some instances pressure from law enforcement is connected to political groups. Margvelashvili declared that there had been pressure on one of his family members, while Papuashvili pointed out that there was pressure on certain judges.
Kaladze compared Margvelashvili and Papuashvili's statements to 'women's gossiping'.
'I haven't listened to the president's statement, although I suspect that it coincided with the statement of Mr Papuashvili. In general, it is unclear, because when I hear such statements, I think that they are political speculations. Mr Papuashvili hasn't come to the Prosecutor's Office until today and I think that we have a case of gossiping, like when women gossip', minister Kaladze said.
Kaladze, who head an electoral staff of Georgian Dream, later apologised for his use of sexist language on his Facebook page.
'I planned (…) to explain myself regarding the involuntary, mechanical use of the phrase "women's gossiping", which I used as a slander… I'm still angry and surprised by the incorrect and biased statement, also angry and disappointed, because it doesn't represent the way I think or feel and it isn't a part of my worldview. To tell the truth, the phrase "women's gossiping" is so much embedded in the language that it slipped out. I confess to the 'crime'!' Kaladze wrote.