TBILISI, DFWatch – Three of the journalists who were beaten and shot by police on May 26, 2011, will be fully compensated for health expenses and partly have their lost equipment compensated.
Tbilisi City Court announced the decision Monday.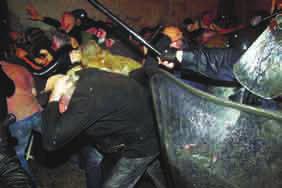 In addition four media companies will be compensated. Batumelebi Ltd will be fully compensated for lost and damaged equipment. Akhali Ambebi's request was only partially granted. It will get the value of one flip camera fully compensated. The demand by Chokhatauri Matsne was rejected.
The judge said that the court agrees with the plaintiffs and their explanations, but in the cases where their demands were rejected there was unsufficient evidence to make a decision.
The claimants have not yet decided whether to appeal, says Natia Kapanadze, lawyer at the Georgian Young Lawyers Association (GYLA), who has been represented them.
The case started October 4, when three journalists and four media units lodged a case in Tbilisi City Court demanding compensation for material and health damage sustained on May 26, 2011, when police violently raided a peaceful anti-government demonstration. The demonstrators were blocking the road in front of parliament, where a military parade was planned the next day to mark 20 years of independence.
According to a new report by Georgian Young Lawyer's Association, 24 journalists suffered violence at the hands of police that night, but most of them are not part of this lawsuit.
Compensation will be paid by the Ministry of Internal Affairs. Nino Tsotsonava represented the ministry at today's ruling, but she declined to comment.