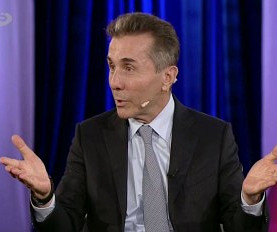 Tbilisi, DFWatch – Former Prime Minister Bidzina Ivanishvili criticizes Alliance of Patriots, a conservative political party, which often resorts to the populist nationalistic narrative, for having 'no clear platform' and advises them to inform voters what exactly they want and what direction they want to steer the country.
He recalled meeting with the EU ambassador.
"He (the ambassador) was surprised when he asked them (the Alliance) whether they wanted Georgia to join the EU and they said 'yes'; then he asked about NATO – and, again, they said 'yes'; And, then, I decided that Alliance of Patriots supported the major course," Ivanishvili said in the in the interview with the regional journalists from Samegrelo on Thursday.
But, Ivanishvili said he had been following statements by the Alliance over the last few days, which arose many questions. Namely, he lists statements of the Alliance that the EU and western institutions derail Georgian Orthodox Church, and also their strong opposition to the anti-discrimination law, which was a pre-condition of moving ahead talks with the EU over granting Georgia visa-free travel to the Schengen Area.
He said that the party had made critical remarks towards, and is skeptical of, the EU, they criticize the Association Agreement as well as the US, and all these raised many questions.
"If they like Europe, they have to respect European values. If they speak about security and agree joining NATO, they'd better avoid being skeptical and if they come to politics they have to make clear what they promise us," he said.
Few days earlier Ivanishvili criticized Republican Party and Free Democrats, former allies of the Georgian Dream.
In response Davit Usupashvili, Speaker of Parliament and the Republican Party leader, sad that Alliance of Patriots seems to better fit Ivanishvili's political taste now than such pro-western parties as Free Democrats or the Republican Party now.