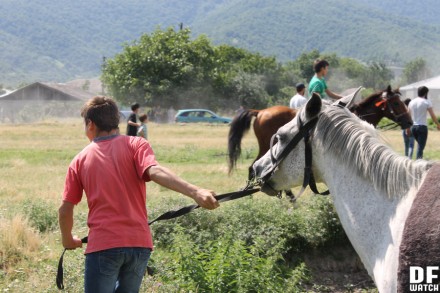 Pankisi Valley, DFWatch – Eid al-Fitr, or the Feast of Breaking the Fast, is a major Muslim holiday marking the end of Ramadan, the holy month of fasting.
This year, Eid al-Fitr was celebrated by Muslims worldwide on 6 July. In Pankisi valley, Georgia's utmost north-east, the region of Kakheti populated by less than six thousand Muslim Chechen-speaking Kists, the day was marked by community prayers at mosques and visiting relatives. Many Kists arrived to the valley from Tbilisi or abroad specially to participate in Eid festivities.
On 7 July, community celebrations were held, which included games for boys and young men (weight lifting, tug of war, apple on a string), singing acapella religious songs called nashids, and sermons. Charity was distributed to economically disadvantaged families by representatives of the local mosque.
The festivities concluded with doghi — traditional horse racing.