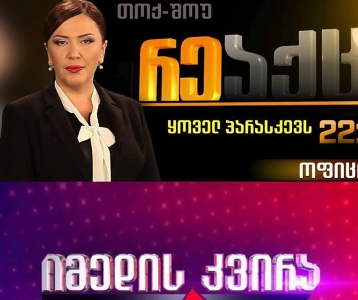 Tbilisi, DFWatch – Inga Grigolia, a popular TV host, wrote on her Facebook that politicians, presumably from the ruling Georgian Dream, didn't want her on air before the elections, referring to the parliamentary elections planned in 2016.
She even "doesn't rule out" personal involvement of Bidzina Ivanishvili, former PM.
"It is a fact that decisions in this country makes one man, who… sets the media standards. It is possible (the shows' cancellation) was his opinion. The government has always strived to control us, but the bad news is that the TV channel owners cave in. In my case it happened, " Grigolia said to Rustavi 2, the main rival of Imedi TV.
"I won't believe this decision came to mind of TV management who were excited after every single show and the audience," she wrote on Facebook on Sunday. "I think this is a political decision that I will not be on air before the elections."
Grigolia says two of the talk-shows, Reakcia and Imedis Kvira (Sunday on Imedi), both very popular, were unexpectedly, and simultaneously, cancelled without any warning.
"I have a right to think this is a political decision, because none of the private TVs cancel shows with a huge advertising revenues and a very high number of viewers."
Imedi TV hasn't done further explanations despite all the noise about its recent decision. They released very short statement stating that cancellation of the talk shows was a temporary measure and they planned to present new talk-shows for their audiences from 2016.