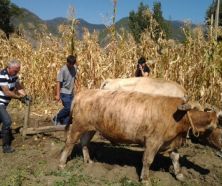 TBILISI, DFWatch–The Georgian parliament decided Friday to declare a temporary ban on the sale of agricultural lands to aliens until a constitutional ban comes into force.
87 MPs voted in favor of the amendment to the Law on Ownership of Agricultural Land, amid fierce pressure by conservative groups. None voted against.
The moratorium brings an immediate halt in the sale of sale of agricultural land until an announced constitutional ban comes into force, and applies to sale of such land to both foreign physical and legal entities.
The prohibition also applies to legal entities registered in Georgia by foreign citizens. However, it does not concern sales of lands to foreigners that have been concluded before the introduction of the moratorium.
Conservative politicians and activist groups put immense pressure on parliament before the vote and May 15 even managed to shut down a public debate in Tbilisi philharmonic which was part of a hearing process about the constitutional reforms.
Previously, Georgia's ruling GD party decided to ban the sale of agricultural land to foreigners by adding a clause to the Constitution.
On June 8, PM Giorgi Kvirikashvili announced that a passage will be added to the Constitution to ban the sale of land to persons who do not have Georgian citizenship.