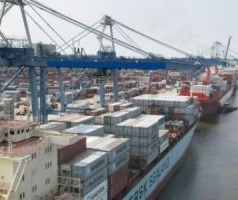 TBILISI, DFWatch–Georgia's foreign trade turnover in 2014 was five percent more than the previous year according to preliminary data from the National Statistics Department, GeoStat.
The turnover totalled USD 11,459 million.
According to the preliminary report, export was USD 2,863 million, which is two percent less than the previous year, while import was USD 8,595, 7 percent more than the year before.
The trade deficit was USD 5,732 million, which is 50 percent of the total turnover.
According to precise data, the foreign trade turnover in 2013 was USD 10,934 million with USD 5,117 million negative trade balance, while in 2012 it was USD 10,425 million with a USD 5,674 million trade deficit.
GeoStat publishes financial data in two steps; preliminary and precise reports. Precise data for Georgia's foreign trade turnover in 2014 will be published on January 21.