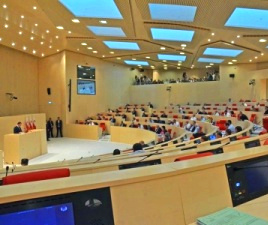 TBILISI, DFWatch–The Venice Commission draws an overall positive conclusion about Georgia's latest constitutional reform in an assessment published Friday, but the Council of Europe experts are still concerned about the lack of consensus among the country's largest political parties.
"The Venice Commission reiterates its previous positive assessment, notably that the constitutional reform process completes the evolution of Georgia's political system towards a parliamentary system," the document reads.
However, the postponement of the entry into force of the proportional election system to October 2024 is 'highly regrettable and a major obstacle to reaching consensus'.
But the desperate efforts of Georgian authorities to mitigate these 'regrettable' results have not been rested unnoticed.
"[…] the commitment of the parliamentary majority in the letter of 20 September 2017 to consider allowing party blocks, together with the reduction of the election threshold to 3% at the 2020 elections is to be welcomed, since those amendments aim to alleviate the negative effects of the postponement of the entry into force of the proportional election system to 2024," the Commission states.
Most opposition groups and civil society have remained critical to the draft presented by the ruling Georgian Dream, especially because it will mean delaying for another four years the introduction of a fully proportional system in parliamentary elections.
In the current mixed system, almost half of the 150-member parliament are elected in one-mandate electoral districts. This allows the ruling party to secure a strong majority in the parliament and thus drastically diminishes pluralism. For instance, in the 2016 elections, Georgian Dream got 49 percent countrywide, but won 71 seats by majority vote out of 73.