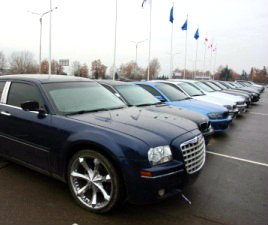 TBILISi, DFWatch–The number of cars in Georgia grew 8 percent in 2016, continuing a trend of steady expansion of the nation's auto park of mostly older vehicles.
The growth in 2016 was to 1,125, which is 8 percent, with German carmakers retaining their leading positions.
There was the same rate of growth in 2015, while in the two preceding years the increase was even higher, with 9.6 percent in 2014 and 8.5 percent in 2013, according to the statistics by Ministry of Internal Affairs.
The statistics encompasses all types of vehicles, including trucks and busses. However, the lion's share of all cars, 81.6 percent, was seen in light vehicles and SUVs.
German car manufacturers Mercedes-Benz and Opel are market leaders in the Georgian auto park. The first ten makes include Ford, BMW, Toyota, Volkswagen, Nissan, Mitsubishi, Honda and Subaru.
Over 90 percent of all cars are 10 years old or older and only 1.3 percent of cars are manufactured during the last three years.
In spite of the widespread stereotype that Georgians prefer black vehicles, the statistics show that gray or silver colored cars are in first place, followed by white and black cars, and after that blue ones.