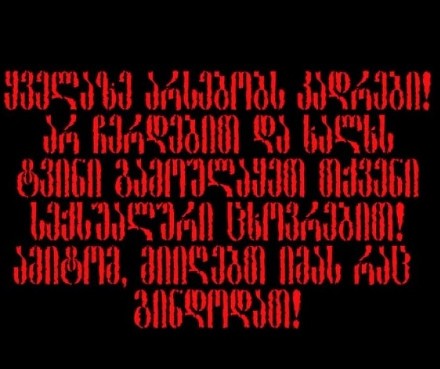 TBILISI, DFWatch–One more Georgian sex video was posted on the Internet on Tuesday.
The clip was sent to a media outlet; the same delivery method as the previous three times. This time, the website news.ge received an email with a video depicting two people in a private situation.
The beginning of the video has a note warning that there are videos about everyone.
This Affects You Too, a campaign against secret surveillance and wiretapping, responded by writing that this doesn't concern particular politicians, journalists, actresses or other well-known people, as any person may become a victim of secret surveillance.
"Of course, we don't want others to know what we are discussing on the phone, on Facebook or any other way with our family members, neighbors and friends," This Affects You Too wrote on Facebook.
April 8, the Prosecutor General's Office arrested five former officials of the Interior Ministry related to the case of the sex videos. The office informed that the arrests were related to the videos that were posted on March 11 and 14, but it remains unknown how these videos were obtained, who uploaded them and from where.
The office also informed that the accused people allegedly were secretly wiretapping journalists and politicians, and were installing cameras in apartments and hotels.
"The investigation established that in 2011-2012, by organization and according to the order of the former deputy director of MIA's Constitutional Security Department, Vasil Leluashvili, the officers of the mentioned department pre-selected the persons with different political views and prominent people, carried out their illegal surveillance and extracted their private life recordings in order to gather the compromising material against them," the statement reads.
Later on April 8, one more person was arrested. His lawyer told journalists that his client showed up at the Prosecutor General's Office by his own free will.