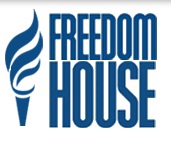 TBILISI, DFWatch–Georgia slightly improved its position on the Nations in Transit index published by the human rights organization Freedom House, and has the best result over the past nine years.
Georgia's score in the latest index is 4.61 points out of 7. Last year, the country had 4.64 points. The less points a country has, the better. The country made it into the "transitional government or hybrid regime" category.
The chapter about Georgia was written by Michael Hikari Cecire, an associate scholar at the Foreign Policy Research Institute and co-founder of the Tbilisi-based Georgian Institute of Politics. He notes that the country showed some improvements when it comes to independence of the courts, but the situation remained the same in terms of national democratic governance, the electoral process, civil society, independent media, local democratic governance and corruption.
"Positively, the year saw increased evidence of political pluralism and a noticeable slowing in new prosecutions against former officials from the previously ruling United National Movement (UNM), while the structural independence and functionality of the Georgian judicial system were largely sustained in 2015," the Washington-based organization observes.
"However, there were also signs of stagnation and even possible regression in other areas, and particularly in the realm of media freedom. While the Georgian media landscape remains diverse and largely pluralistic, the investigation and prosecution of the leading opposition media outlet, Rustavi2, points to political pressure by elements of the ruling Georgian Dream (GD) coalition," Cecire writes.
While some have criticized Georgian non-governmental organizations (NGOs) for narrowing the field of democratic debate, Cecire notes that for the most part, Georgian NGOs 'express a wide spectrum of ideological views'.
The parliamentary elections, scheduled for October 8, are viewed by Freedom House as the most significant political event this year.
"As the 2016 elections near, the issue of electoral reforms as well as broader partisan rancor is likely to become more pronounced."
In the same index, Azerbaijan scored 6.5, Armenia 5.36, Russia, 6.5 and Ukraine 4.68.
Read the report here: https://freedomhouse.org/report/nations-transit/2016/georgia