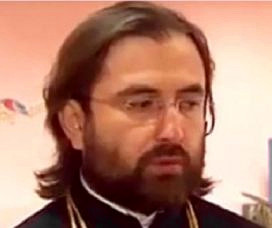 TBILISI, DFWatch–A priest is being put on trial in Georgia for planning to use poison to murder a close adviser to Patriarch Ilia II, the head of the Georgian Orthodox Church.
As the case files were handed over to the court on Thursday, the Prosecutor General's Office wrote in a statement that archpriest Giorgi Mamaladze is suspected of a premeditated homicide attempt motivated by greed, a crime which carries a sentence of 16 to 20 years in jail.
The trial starts May 5 in Tbilisi City Court.
A substance found in the luggage of the archpriest was proved to be sodium cyanide, and the amount was enough to poison 'several persons', the statement reads.
The alleged target of the plot was Shorena Tetruashvili, Patriarch Ilia II's personal secretary, who holds a strong informal power among the clergy.
"Giorgi Mamaladze considered Secretary of the Catholicos-Patriarch, Shorena Tetruashvili an obstacle," the statement reads.
Mamaladze was dismissed as head of the Church's property department in January, 2016 and appointed director of St Ioakime and St Ana Medical Center. The archpriest believed that Tetruashvili was behind his dismissal and considered his transfer a demotion, the POG states.
"In order to maintain the existing financial and hierarchical status and to ensure career advancement in the future, Giorgi Mamaladze decided to murder of Shorena Tetruashvili out of greed, using a potent poisonous substance."
The archpriest maintains his innocence and said through his lawyer that he does not want his case to be reviewed by a jury.