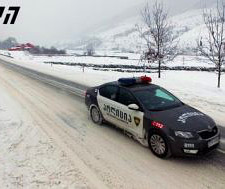 TBILISI, DFWatch–A journalist in Georgia claims police beat him and pointed a gun at him following a traffic incident.
The incident happened in Borjomi, a town in the southern part of Georgia, Iberia TV reported on Monday. Journalist Giorgi Gasviani, who works for the TV company, said he was beaten by a police officer and two of his friends.
Gasviani was out driving on Sunday, but his car was poorly prepared for the icy conditions and it was when his car slipped on the ice that he got into trouble, he recalled.
The police officer and his friends, who are on the same road, claimed that the skidding behavior of Gasviani's car was actually an attempt to kill them. As he recalls, they approached his car and proceeded to beat him while he was still sitting in the car, without giving him a chance to explain why the car had slipped, and without even letting him speak.
"He pointed a gun at me. They threatened me and didn't let me explain how I felt when something went wrong with the car," he said.
The journalist, who was on his way to a seminar about human rights, was forced out of his car and beaten over the head.
When he told them he was a journalist they threatened to take him to the police station, but offered to bring him instead to the hotel where the seminar was held, in return for not telling anyone about the incident.
Gasvian called the Ministry of Internal Affair's general inspection, a unit tasked with looking into allegations of police brutality. He was taken to the hospital and afterward to the police station for questioning.
Minister of Internal Affairs Giorgi Mghebrishvili told journalists on Monday that if the beating incident is proven to be true the perpetrators will be harshly punished.
"A person who should take care of order and call on others to do the same, and this person offends the law… I will never protect this person. If necessary, this police officer will be fired and punished," Mghebrishvili said.
The Prosecutor General's Office launched an investigation under article 126 and 333 of the Criminal Code about battery or other violence and exceeding official powers.