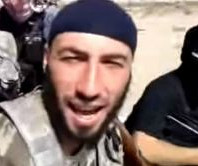 TBILISI, DFWatch–A Georgian citizen was Wednesday sentenced to 12 years in jail for cooperating with the terrorist organization Islamic State.
As most of the Georgians who have joined the Islamic State group, Davit Borhcashvili comes from Pankisi Valley. He was detained in November 2015 and accused of cooperating with the terror group also known as ISIS.
Tbilisi City Court sentenced him to 12 years in jail for his involvement with the group.
The Prosecutor General's Office argued that the evidence made it clear Borchashvili joined the terrorist organizations in Syria and participated in various military activities.
Borhcashvili denies the accusations and his lawyer says he plans to appeal the verdict.
Lawyer Gela Nikolashvili explains that his client doesn't deny that he was in Syria, but claims he was a member of the Free Syrian Army, which is fighting against President Bashar Al-Assad. The militant denies having been affiliated with ISIS.
A spokesperson for the Prison Ministry told DFWatch that there are currently twelve people in detention in Georgia accused of terrorism. 11 of them have been convicted, while one is awaiting trial. The ministry did not say how many of them are from Pankisi.
Borchashvili, a 30-year-old from the village Jokolo in Pankisi, was arrested at Tbilisi airport on November 22, 2015, after having been extradited by Turkey.
Two videos were posted on Youtube under the username Al Shishani and re-posted in Georgian media, showing the movement of fighters and a funeral. Georgian media outlets indicated that the video allegedly showed Borchashvili carrying weapons and then attending the funeral.



According to the counterterrorist department of the State Security Service, Borchashvili was an Islamic State fighter and followed the orders of the terrorist organization's field commander Tarkhan Batirashvili, who was also from Pankisi and used the alias Omar Al-Shishani. Batirashvili was reported dead in July, 2016.
When Borchashvili was arrested, his family claimed that he was in Turkey in order to earn money and while there, he was injuried during construction work. He then spent six months at a hospital in southern Turkey, but was deported because he violated Turkish visa rules, the family claims.
There were unconfirmed reports in 2015 that at least 30 people have left Georgia to fight in the Syrian war, but this is an uncertain estimate.
According to Voice of America,  22 Georgians have died in Syria since the beginning of war. 19 of them were from Pankisi, and three from the Muslim communities in Guria, Adjara and Kakheti.