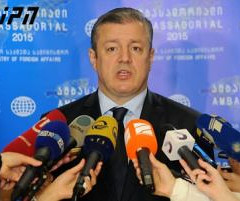 TBILISI, DFWatch–Amid growing discontent with the economic situation in the country, and a national currency which plunges to new depths every day, the government announces a hike in excise the tax rate for fuel, tobacco, imported autos and gambling.
"As you know, the price of tobacco is one of the lowest in Georgia… At the same time, we are going to impose tobacco control in public places," PM Giorgi Kvirikashvili said at a government meeting on Tuesday.
But even though the government plans to increase the excise tax on imported vehicles, the rate will remain the lowest in the region, by far, he added.
Excise tax will increase for fuel and gambling as well. Kvirikashvili said that the former comes as a result of environmental concerns, while the latter was a demand from people.
The government also plans to restrict loans in US dollars.
No exact figures have yet been released, except the tobacco excise tax, which will increase by 60 tetris (USD 0.24).
Georgian lari on Tuesday plummeted to a new historic low reaching 2.5311 laris against USD, according to the Georgian National Bank. The psychological barrier of 2.50 was passed last week and in some currency exchange booths, US dollars were traded for more than 2.56 laris for 1 USD.