T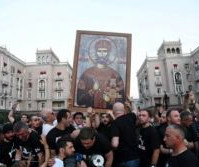 BILISI, DFWatch–A far right group in Georgia that is forming vigilante groups to patrol Tbilisi's streets looking for 'suspicious foreigners' is also planning to establish a new political party.
Leaders of Georgian March confirmed this to different media outlets. The group is notorious for its anti-migrant and homophobic rhetoric.
GM's entry into politics became known on Monday when one of its most high profile members, Gia Korkotashvili, left the group and went public.
Korkotashvili said he didn't plan to become involved in politics, but would keep friendly relations with other activists.
"Georgian March consists of honorable members of society. They are my friends. They decided to turn Georgian March into a political movement and to serve the national cause. I don't want to enter politics," said Korkotashvili, a professional singer and showman.
It was soon confirmed by Lado Sadgobelashvili, one of GM's leaders.
"Elections are imminent and a part of Georgian Dream has decided to reshape it as a political popular movement," Lado Sadgobelashvili said.
No other details on the GM plans in politics have been made public so far.
Vigilantes in Tbilisi
"Attention!!! Volunteers who wish to enroll in 'Popular Patrol' contact […]."
A statement with this text was posted on GM's Facebook page on February 8.
The purpose of street patrols was elaborated by one of the GM activists who stated that the 'popular patrol' will start patrolling Agmashenebeli Ave, Leselidze St, Freedom Square and other places where "foreign nationals spread drug addiction, prostitution, pedophilia and other crime".
"The Popular Patrol will also monitor 'night clubs' where citizens of Georgia are poisoned [with drugs] and our future generation is being debased!" the statement reads. The patrols will be equipped with video cameras to record 'the offense' and then the the police will be called.
Ideologically Georgian March is similar to European far-right groups, and its policy includes radical anti-immigrant, anti-Muslim rhetoric, protection of 'family values' and opposition to liberalization of drug policies.
Photo: Gia Korkotashvili (center) leaves Georgian March because doesn't wish to join politics (Facebook).