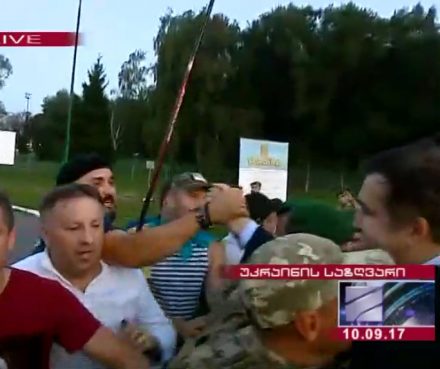 TBILISI, DFWatch–After trying for several hours, Mikheil Saakashvili finally managed to get into Ukraine Sunday evening, with the help of his supporters.
Currently he is in Lviv and reportedly plans to travel to Kiev.
"I don't plan to oust anyone, I plan only to legally defend my interests," Saakashvili said Sunday afternoon, a few hours before his victorious entry to Ukraine with a crowd of a few hundred people cheering him on.
However, there have been made no statements yet about his future plans.
The breakthrough across Ukraine's border occurred when Saakashvili and people traveling with him, including his wife, son, and several Ukrainian MPs, were stranded in the neutral zone between Ukraine and Poland. Ukraine's former PM Yulia Timoshenko and Polish MEP Jacek Saryusz-Wolski were also among the attendees.
Hundreds of Saakashvili supporters broke through a police block and burst into the neutral zone where they paraded victorious with Saakashvili into Ukraine, cheering his nickname 'Misha' and 'glory to Ukraine'.
Meanwhile, Ukraine's border police called on the country's prosecutor's office to investigate the illegal border crossing. Several border guards were injured in the incident, Ukrainian media reports.