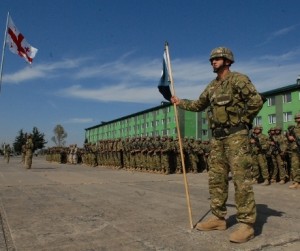 TBILISI, DFWatch–The Georgian Defense Ministry this week announced vacancies for joining the military on a contractual basis.
The contracts offered have a four year term and are available for persons between 18 and 35 year, and youth who have served compulsory military service or had a previous contract, the Defense Ministry said in a statement Tuesday.
The salary is 950 laris (nearly USD 400) per month, but more for higher rank, or according to seniority or military experience. The government also offers free medical services.
Servicemen can go through exercises with foreign and Georgian instructors, study languages and participate in international missions.
Recruits have to pass physical and psychological test, as well as medical examination. Basic combat training lasts ten weeks.
Switching to the professional army system was one of the promises made by the Georgian Dream government. Irakli Alasania, who was defense minister until his dismissal in late 2014, talked about the importance to end compulsory military service. His successor Tina Khidasheli is also in support of this idea.
A draft bill is still being debated in parliament.