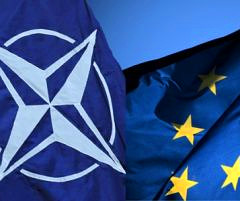 TBILISI, DFWatch–The Georgian delegation to the NATO summit in Warsaw has presented a document signed by six political parties, reiterating their support for the country's course toward a closer integration with the alliance.
The document was signed by leaders of the ruling party Georgian Dream as well as its coalition partners the Republican Party and the Conservative Party, and the opposition parties the National Forum, Free Democrats, and the United National Movement.
The declaration was also signed by president Giorgi Margvelashvili, prime minister Giorgi Kvirikashvili and speaker of parliament Davit Usupashvili.
The declaration was notably not signed by Industry Will Save Georgia, a member of the ruling coalition.
President Giorgi Margvelashvili, who is currently in Warsaw participating in the NATO summit, told journalists that the document showed that the Georgian political scene is able to unite behind the country's pro-Western course.
"This is an important document, as it was signed by parties which are both from the government and from the opposition. This is very important and I would like to thank these parties — when we're dealing with the issue of foreign policy priorities and the country's interests, Georgian political forces show the skill to stand united," the president said.
The full text of the declaration reads:
"The undersigned parliamentary political parties of Georgia have in the past, and continue to have, substantial domestic political disagreements. Yet we stand united on one principle: that Georgia is a sovereign, independent state, and the Georgian people are committed to building a European democracy that cherishes freedom, economic opportunity, and security, and aspires to full membership in all Euro-Atlantic institutions.
Georgia seeks to play a vital part in a Euro-Atlantic community of nations contributing to the collective security, democracy and prosperity of that community.
We recognize the unique challenges Georgia faces in its region. Our country is partially occupied by Russia, which has recognized entities it controls as independent states. Russia's aggression throughout the last 25 years and its invasion of Georgia in 2008 produced hundreds of thousands of internally displaced citizens. We are in a region plagued by territorial disputes, and geographically close to on-going armed conflicts. But our location is also significant as a logistics and energy corridor connecting East and West.
We cannot control the actions of our neighbours — and should therefore not be held hostage to their actions. As Georgian citizens, we are committed to the principles of good neighbourly relations, free and open trade, dialogue and peaceful resolution of disputes. We will never be the first to use force in our neighbourhood. Yet we are equally committed to safeguarding Georgia's sovereignty and territorial integrity.
We seek the full support, encouragement, and assistance of our partners in the transatlantic community for the full integration of Georgia in the European Union, NATO, and all other Euro-Atlantic institutions."