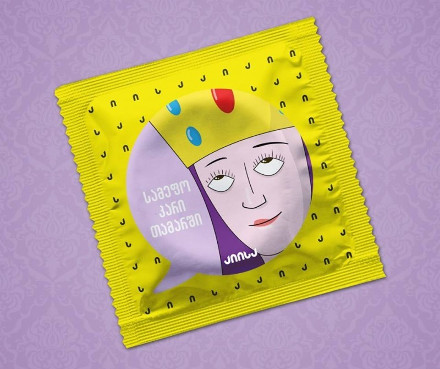 TBILISI, DFWatch–A court in Georgia has banned three types of condoms because the packaging was found to be unethical.
Human rights groups see the ruling as an attack on freedom of expression.
Tbilisi City Court's decision bans the sale and promotion of three types of condoms sold by the company Aiisa. One of them carries an illustration of Queen Tamar. She was a Medieval ruler of Georgia who has been sanctified by the Georgian Orthodox Church.
The court also banned two other condoms from Aiisa's line of products that is decorated with a cartoon drawing alluding to the sign of the cross and another one that references the 12th Century Battle of Didgori between King David the Builder and Seljuk Turk forces, which in Georgia is regarded as a historic turning point and revered both by the state and the church.
Aiisa was fined 500 lari (USD 200) by the court and ordered to recall any 'unethical' products from the market, while its founder Anania Gachechiladze was ordered to stop distributing 'unethical' content in ads and through social media.
Gachechiladze said told media she would appeal the case, not only through regular courts but also to the Constitutional Court.
She was backed by many Georgian human rights activists who viewed Friday's ruling as an attack on freedom of expression.
The lawsuit against Aiisa was launched by Tbilisi City Hall following a complaint filed by a marginal far-right group, Georgian Idea.
City Hall argued that the wrappings are not only unethical, but also an attack on the national dignity and religious feelings.
Apart of the three that are now banned, Aiisa's range of condoms carry depictions of other contemporary and historical political figures, like Joseph Stalin and Vladimir Putin.
The open sale of condoms was also a topic of heated debate in 2012, when lawmakers from the ruling Georgian Dream party proposed making it illegal to have condoms that 'enhance pleasure' openly on display in shops where underage persons might see them, but allow the sale of condoms not specifically designed to 'enhance pleasure'. The proposal drew widespread ridicule at the time.