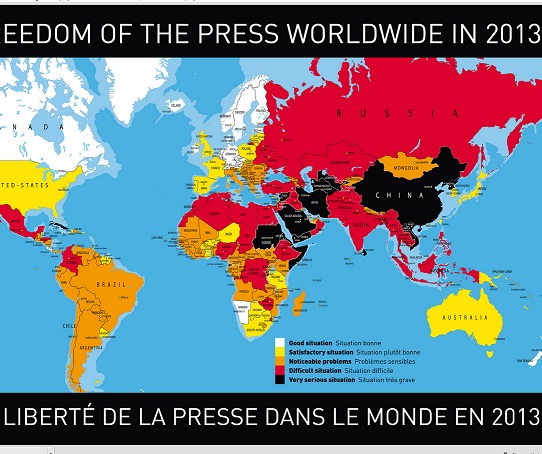 TBILISI, DFWatch–Georgia climbs 17 places on the latest Press Freedom Index and is listed in 84th place among 180 countries.
The index measures the level of freedom of information in different countries and is published annually by Reporters Without Borders.
This newest report, covering the year 2013, says Georgia, Armenia and Kyrgyzstan all enjoy a significant degree of pluralism and relatively little state censorship. But the considerable social polarization is reflected in the media and the climate for journalists, who are often harassed by pressure groups.
Reporters Without Borders assume that the elections in 2013 were calmer than in previous years, pressure on journalists was rare and political changes were also reflected in the media.
"Imedi TV, a station acquired by allies of former President Mikheil Saakashvili in 2007, was returned to the family of the original main shareholder shortly after the October 2012 elections. The justice system began investigating alleged fraudulent share transfers and money laundering involving the mayor of Tbilisi. After being elected prime minister, Bidzina Ivanishvili announced the closure of TV9, a privately-owned TV station which his wife had launched in 2012 and which had played a major role in propelling him to power. A new broadcasting law should limit the political in-fighting within Georgia's state broadcaster that resulted in a wave of dismissals in 2013," the survey says.
The best conditions for the media are found in Finland, Holland and Norway, according to Reporters Without Borders. In the other end of the spectrum, Turkmenistan, North Korea and Eritrea are in 178th, 179th and 180th place respectively, where, the organization claims, freedom of speech does not even exist.