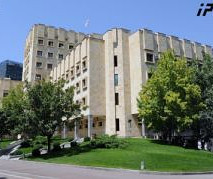 TBILISI, DFWatch–One person has been charged with terrorism in Georgia for allegedly using social media to advocate the hostage taking of the Armenian ambassador.
The Georgian national, whose identity is being withheld by authorities, used Facebook to call on people to take the Armenian ambassador hostage.
This happened in 2016, when there was an escalation of violence in the conflict over Nagorno-Karabakh, a breakaway region of Azerbaijan currently under control by a breakaway government friendly with Armenia.
The 2016 escalation, , which had repercussions also in Georgia, drew a dividing line between the Armenian and Azerbaijani communities here.
The ethnicity of the suspect has not been made public.
The case is classified, but news agency IPN has been able to gain access to some of the details and made them public.
According to IPN, the suspect posted on Facebook during the 2016 escalation of violence, calling on ethnic Azerbaijanis living in Georgia to gather near the Armenian embassy in Tbilisi. The suspect touted the audience, writing that it was necessary to burn Armenian flags, break into the embassy building and take the ambassador hostage.
Although the threat was never acted on, there began a criminal prosecution against the suspect about two years later. The investigation has taken so long time because investigators have been waiting for answers from officials and from the Facebook corporation, to confirm that the person who posted on the social media site was in fact the person in question.
The suspect has now been released on bail while the case is being prepared for the court.