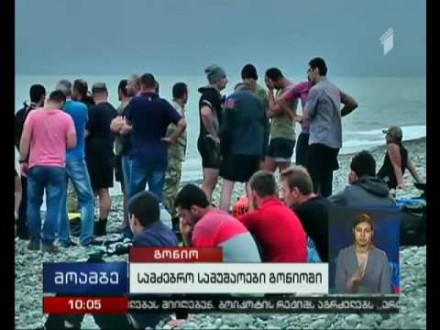 TBILISI, DFWatch–After eleven days, the search operation for two missing soldiers has been called off in Gonio on Georgia's Black Sea coast. The two are believed to have drowned on August 16 during a military exercise.
According to the Defense Ministry, the Turkish navy has also decided to end the search.
But the mother of Iago Sharadze, one of the victims, refused to accept that the search is called off, and went on a hunger strike which she will continue until the body of her son is found.
"If I notice that you don't care about me, I will burn myself in front of you," she told a journalist working for Rustavi 2.
The Defense Ministry statement said their Turkish counterpart explained that continuing the search would be pointless.
"They've used all the resources, considering the difficult conditions they had to work in. They have been using a Turkish ship, 650 tons, with 41 crew members and modern equipment since August 20. There are only a few such ships in the world and it is the most powerful for carrying out a search in this kind of situation," the statement reads.
The Turkish ship was first to participate in the search operation for three days, but continued for eleven days with the defense minister and the father of one of the soldiers on the board.
The US Defense Department representatives, as well as European Command's flying machines have also been involved in search works but without results.
"The ship has left. I was really hoping that it would find the bodies. I beg the defense minister and prime minister not to halt the search, but find some other ways not to announce the young soldiers missing and find the bodies," Iago Sharadze's father Vladimer Sharadze said.
The Defense Ministry will compensate the families of the soldiers.
Defense Minister Levan Izoria said Wednesday that people will soon learn about the details of the investigation. He said that there are signs of a crime having taken place.
Iago Sharadze and Giorgi Nanetashvili were diving during a military exercise in Gonio when they were unable to reach the surface.
An investigation was launched for causing the death of two or more people through negligence.
At first, the military police investigated the case, but now the Chief Prosecutor's Office is investigating it.