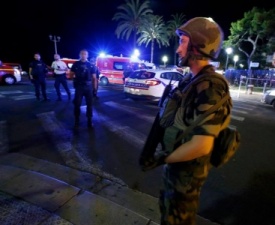 TBILISI, DFWatch–Four Georgian citizens who were reported missing after the terrorist attack in Nice during the national celebrations July 14 have been found safely, the Georgian embassy said.
The embassy contacted the missing persons and found out that they are outside of harm's way.
The four moved to Nice quite recently. After news reports of the attack, in which a man drove a truck 2 kms through a crowded promenade, killing at least 84, relatives were unable to contact the four Georgians. It later turned out that they were at home and had their mobile phones switched off.
There is so far no information about Georgians being among those killed or injured, the embassy further informed, but all the bodies have not yet been identified.
People who are concerned may call a hotline maintained by the Georgian embassy in France, which provides information and assistance related to the terrorist attack in Nice: +33 7 83 31 86 89.
The Georgian Foreign Ministry condemned the attack in France and expressed solidarity and support with the French people and government. The ministry extended its condolences to the families of the dead. It also called on Georgians in France to avoid crowded areas and to call the embassy hotline for any additional information.