TBILISI, DFWatch–Four persons were detained on Wednesday after several incidents during two counter-rallies held at the main office of the Georgian Orthodox Church, the Patriarchate.
Participants at one rally came to protest against an epistle by the Georgian Patriarch criticizing in vitro fertilization and surrogate mothers, while representatives of the organization People's Hall of All Georgia came to support the Patriarch.
Participants of the first rally brought banners with messages against the Patriarch's epistle: "I don't want hatred to be financed by people" one poster read. Government every year increases the financing of the Patriarchate and this year allocated about USD 13 million from the state budget. "Ilia II or God?" another poster read. Participants of the counter rally tore some of those posters and got into a physical scuffle with them.
Police were present and tried to defuse the situation by separating them, forming a line.
Giorgi Gabedava, a former political prisoner who is also known for organizing rallies against LGBT activists notably on May 17, 2013, also came to the Patriarchate and tore anti-epistle posters and shouted.
He and several other persons from the counter rally claimed they recognized LGBT people among those who protested against the Patriarch's epistle and started swearing at them and calling them homosexuals.
As result of the scuffles, four persons were detained for physically insulting the participants of the counter rallies. They will be charged with hooliganism.
"My father used to tell me that he won't repeat advice for me and I never dared not to fulfill them," a woman from the counter rally said. "The Patriarch is the father of our nation and we must not question his words, we are Georgians."
Tamar Khachapuridze, who had a small incident during the Alilo Christmas procession on Tuesday, was also outside the Patriarchate protesting against the epistle that criticized in vitro fertilization. She said she is against gay marriage and thinks that a child must have a mother and a father; however, she thinks it is completely unacceptable when the Patriarch says children who are born this way are sacrificed and will be unhappy and live in an unhappy family.
At the end of the rally, the Patriarchate issued a short statement saying that it does not want to be associated with the counter rally and calls on everyone to keep peace and avoid violence.
A bit earlier, the Patriarchate issued another statement explaining the position of the church regarding the epistle.
It reads that some people thought the Church is against children born through artificial fertilization.
"On the contrary, these children need more warmth, love and blessing from church," it reads. "That is why such children are godchildren of the Patriarch and there is nothing surprising in this, but this doesn't mean that this method is acceptable."
The statement sayd that every traditional religion is against in vitro fertilization and considers it a sin. The Patriarchate is obliged to warn the parish and people about it.
Wednesday morning, Public Defender Ucha Nanuashvili responded to the Patriarch's epistle by saying that due to the special influence the church leader has in Georgia, his position regarding in vitro fertilization and surrogate mothers might be risky.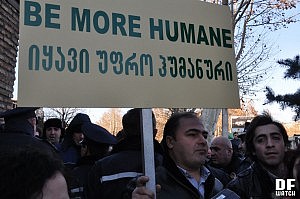 "Such a statement can encourage the forming of discrimination towards people who were born by in vitro fertilization and surrogate mothers and form a negative attitude in people towards them," he says, adding that this may lead to their stigmatization and exclusion.
He said the situation of families who are preparing or already have a child born this way, must be taken into account.
"Unfortunately, the author didn't take into account their interest and the pain caused by this statement for many people."
Nanuashvili called for a more careful approach while talking about such issues, especially when it concerns children.