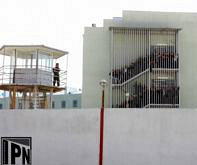 TBILISI, DFWatch–Five prison doctors have been fired after the death of a prisoner at Prison No 19 in Ksani, a town north of the capital.
Spokesperson Irakli Kordzaia said Wednesday that the Prison Ministry has studied what happened to a prisoner who died January 2, 2014, at the rehabilitation center for tuberculosis at the prison.
The general inspection and the Department of Medical Regulation studied the case and determined that the prisoner, Data Bobokhia, had complained about stomach pain, but didn't receive proper medical treatment.
Kordzaia said he died because of mistakes by doctors, who didn't move him to the hospital in time.
The ministry's investigators say the five doctors at the tuberculosis rehabilitation center at Prison No 19 were fired because they made grave mistake.
All the material the ministry's investigators gathered has been sent to the police and prosecutors.