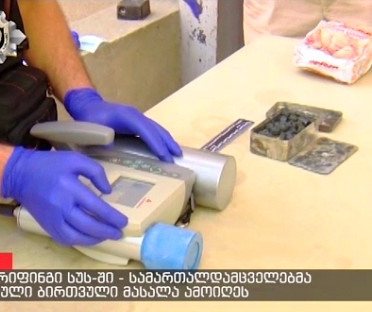 TBILISI, DFWatch–Five people were arrested April 26 for attempting to sell radioactive uranium for USD 3 million.
Savle Matiashvili, investigator at the counterintelligence service of the State Security Service, said at a briefing on Thursday that the five were arrested when they brought nuclear material to a house in Kobuleti, a town on the Black Sea coast.
"The radiological examination showed that the substance uranium, with the total weight 1,665 gr, contains two radioactive isotopes: uranium 238 and a small amount – 0.23% – of uranium 235," the State Security Service informed.
Given the gamma ray emission and the radiation source, direct and long-term exposure to the substance is hazardous for human life and health, the security service added.
On April 27, 2016, Tbilisi City Court placed the five in pre-trial detention.
An investigation is in progress for illegal handling and selling nuclear material, which may be punished with from five to ten years in jail.
April 18, the State Security Service arrested six persons trying to sell Uranium 238. Three of them were Georgian and three Armenian citizens. The service did not say whether there is any connection between the two cases.