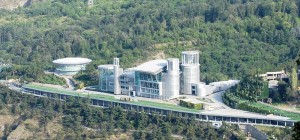 TBILISI, DFWatch – Georgia's richest is carefully laying the groundwork for his entering politics and wresting the Caucasus nation out of the grip of president Mikheil Saakashvili.
One crucial piece in his plan is to put together a pool of advisors around him in order to bounce ideas around and gauge the atmosphere among the population. But the advisory board may be a stumbling block for the political newcomer, because after the authorities took away his citizenship it's illegal for him get involved in politics.
Meetings of the informal board, which so far includes a poet, a playwright, a legal expert and a psychologist, are therefore necessarily circumspect and themes general in nature.
"Conversations about several issues are prohibited by law, so we have to discuss issues in an extraordinary way" –Irakli Sesiashvili, political advisor to businessman Bidzina Ivanishvili
October 7, the Georgian businessman launched his campaign by releasing several statements describing his political goals, criticizing the government, opposition political parties, media and a number of Georgian commentators.
Shortly after releasing his first statement Ivanishvili's citizenship was unexpectedly revoked. According to his lawyer Eka Beselia this was an illegal decision. Later he made a decision to go to court and try to have president Saakashvili's special decree repealed.
Not being a Georgian citizen means that a person has few possibilities if he wants to get involved in politics: One cannot legally set up or finance political parties or take part in elections. But this has not prevented the recently created advisory board from holding its meetings, and soon it will hold press conference, members say.
Among the board members is the well-known Georgian poet Rati Amaglobeli, who has been publishing in Georgian and international publications since 1994. For several years he has been editor of one of the country's most popular magazines, Hot Chocolate, which writes about social and cultural issues.
Political psychologist Zurab Bigvava is also on the board. For years he has been advisor to the parliament speaker. He is a former member of the opposition party of Nino Burjanadze. Over the years Bigvava has been working both at the Ergonomics Institute and at the Psychology Institute as head of department.
Another board member is playwright Basa Janikashvili, whose plays are often staged in Georgia as well as UK and Russia. He is also a popular producer of TV and radio shows. In 2009 he received the BBC International Radio Playwriting Competition's prize in the Russia and Caucasus category.
Among Ivanishvili's advisors is also Irakli Sesiashvili, legal expert in the field of safety, and former chairman of the NGO Justice and Liberty, which works with military issues.
It's not yet known how many members will be in the board. Members interviewed by Georgian newspaper Rezonansi said no significant decisions have yet been made during the meetings, described more as 'sharing ideas' while the businessman listens to different advice.
According to Janikashvili they have also had brief arguments, one of them about whether to record Ivanishvili's TV interview or be on air live. But mostly the talks are in a discussion format.
Sesiashvili says that when the Civil Registry revoked the businessman's citizenship it created some problems for the board. A non-Georgian citizen is not allowed to get involved in politics.
"This raises legal problems; he should appear on the screen and make political statements; conversations about several issues are prohibited by law so we have to discuss issues in an extraordinary way," the expert says in an interview with Rezonansi.
President Mikheil Saakashvili's spokesperson said at Tuesday's press briefing that Bidzina Ivanishvili can apply for a new Georgian citizenship. But she also says, that revoking his citizenship was not violation of any law and this decision was perfectly in line with Georgian legislation.
(Image shows Bidzina Ivanishvili's residence in the hillside above Tbilisi where he has been receiving journalists and opposition politicians. Photograph: Kober.)