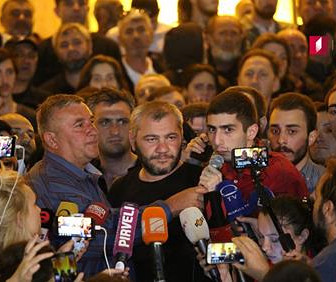 TBILISI, DFWatch–Georgia's Ministry of Internal Affairs on Friday offered the father of a murdered teenager who is leading a street protest to enroll in a witness protection program, claiming his life may be in danger.
Zaza Saralidze has been at the front of an ongoing street protest against the investigation and prosecution of the murder of two teenagers six months ago at a Tbilisi high school.
The protesters claim the prosecutors have scuttled the investigation in order to protect a relative of one of their staff.
After two days of rage filled rallies with Saralidze at the center of events, the ministry now claims he needs protection because certain forces are planning to destabilize the country.
"Based on the available information, various provocations are expected from some politically motivated forces against Zaza Saralidze. These provocations may be used to destabilize the country. Since this risk is high and [Saralidze's] life is in real danger, the Ministry of Internal Affairs offers [him] special assistance within the framework of the Special Operations Protection Program," the MIA statement reads.
Zaza Saralidze rejected the offer.
"The government has decided to protect me. I have pleaded with them for six months to protect my child's rights and during that time they repeatedly spat on my soul. I do not need their protection," Saralidze said during Friday's rally.
The rallies, which started Thursday right after the court read its verdict, have roiled political Tbilisi, and prompted the prime minister to attempt to address the crowd, but he was chased away by bottle-throwing rally goers. PM Giorgi Kvirikashvili then went on TV and offered a new criminal investigation, while opposition parties have launched a parliamentary inquest – but none of the proposals were enough for protesters.
A teenager, whose name was not disclosed, was convicted of 'attempted murder' of Saralidze's son Davit, who suffered 12 stab wounds in the brawl last December. The fact that he was convicted of attempted murder, and not murder, is taken by Saralidze and his supporters as confirmation that the person who inflicted the fatal stab has been kept out of the whole case.
They claim prosecutors scuttled the investigation in order to protect the real killer, who is the son of one of the prosecutors; a claim rejected by authorities.
Two teenagers lost their lives that tragic day last December near School No 51 in Tbilisi, after a large number of the school's pupils got involved in a fight.
When it comes to the second murdered teenager, Levan Dadunashvili, who was also fatally stabbed, his family believe that the real perpetrator was put on trial but demand a tougher sentence. Nevertheless, the father and mother of Dadunashvili have stated that they have trust in the investigation.