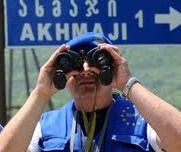 TBILISI, DFWatch–EU's military observers in Georgia have had their mandate extended for another two years, until December 2016.
EU Monitoring Mission to Georgia (EUMM) was established shortly after the Russia-Georgia war in 2008 to support stabilization and normalization of the situation on the ground.
One of its responsibilities is to oversee the regular field meetings (IPRM) between the warring sides from 2008 to discuss practical problems, particularly return locals who have been detained for crossing the de facto border.
Head of mission is Toivo Klaar, who took office in September, 2013. Previous head of mission was Andrzej Tyszkiewicz, during whose term relations between EUMM and Abkhazia broke down and a similar type of field meetings near that de facto border was cancelled. Tyszkiewicz himself was declared a persona non grata by Abkhazia after comments he made that were taken as insulting to Abkhazians.
The next IPRM meeting is slated for January 20.
The EUMM website quotes EU foreign policy spokesperson Federica Mogherini saying that the mission helps to 'provide concrete support for peace and stability in the region.'
The mission has about 200 different observers from EU states who are working in the settlements near Abkhazia and South Ossetia.
EUMM is currently the only international observer mission in Georgia's conflict zones after both OSCE and the UN ended their observer missions here in 2009.